As we approached June 2021, a month where LGBTQ+ Pride is celebrated, a group of outspoken allies in the wedding industry came together with real couples to celebrate their love out of spite for the policies and nervousness that surround this daringly beautiful community.
This celebration shoot took place at the airy Cliffside Acres where walls of white and reflective concrete floors created a sleek backdrop for the color scheme to stand out, just like the love that is outpoured from the LGBTQIA+ community.
Of the couples present, Daniel and Staley, who wed in 2019 overlooking a cliff and powerful waves, arrived at the venue ready to celebrate their community's hard-won victories. They agreed that due to the challenges faced they came out stronger together and that strength is obvious in the way the two admired each other. Staley, a transgender woman, represents a love story that inspires many transgender women to seek out their own love stories without fear. Her story creates hope for something better and it's that hope that we wanted to celebrate with her.
Staley felt like royalty when stepping foot into La Jeune Mariee, a Columbus bridal boutique, to say "yes" to the dress all over again. La Jeune Mariee's goal is to amplify their voice through their brands and couples and to reiterate that "LOVE IS LOVE". By the end, Staley was fitted in a Monique Lhuillier gown that so affectionately was named "Sparkle", representing its radiating design, but also Staley's bright and radiating love for her husband, Daniel.
Alongside this power couple, Eva and Ceili came beaming with excitement! The two were married in December of 2018 and had a small winter ceremony outside a pretty gazebo with a small group of friends and family. This shoot gave them a chance to not only feel like the stunning brides they are but most importantly, to show others that to them, pride means being comfortable with your true self and that you should be able to show love to your soulmate without apprehension. It was so obvious in the way the two looked at each other that they are passionate about the love they have fought for. 
During their expressions of love, Eva rocked a sleek single-shoulder jumpsuit that had a slit sleeve that waterfalled over her arm. With her, Ceili wore Ines Di Santo a silk ballgown with a plunging sweetheart neckline that kept consistent with the couple's modern styling.
Everyone's ensembles were made complete with makeup styles featuring bold liner and colorful eye shadows by Avola Lanza Bridal, which amped up the celebration of pride with the colors that pour out from the movement.
Aiden and Grace provided the table, crisp white chairs, and pastel settings that were accented in gold to keep the space fresh and modern. Atop the table, BLUMEN by Genevieve brought in the rainbow with a delicate arrangement of florals. Within her designs, each color was given a moment to shine with the combination of unexpected textures, in the form of tinted baby's breath and greenery, and was grounded with a few focal blooms and locally grown seasonal goodies. All in an array of pastel colors, representing the pride flag. In addition to the carefully curated tablescape, the ombre moment was carried into the ceremony and echoed in the bouquets.  The expressive designs and lush bouquets made the spirit of pride come alive during the shoot.
With the soft blooms on the head table, Plush Invites created menus and blue escort cards that paired collectively with the pink and white place setting, bringing together a unique celebration of the transgender flag.
After dinner should always come dessert and Kuro Neko Studio came with a cake that conveyed a feeling of lightness to reflect the floral color palette and compliment the bright space. The design started with a clean white canvas and was embellished with a various array of petal piping techniques that cascaded over a watercolor-inspired wash, creating more texture and a sense of depth. The beautiful slices combined with MJOMI's airy macarons created a delectable match. 
At the end of it all, Jeannene Lillie Events, a queer wedding planner and designer, said the most important reason for this shoot was to be meaningful and impactful. Creating a space where few people can feel 100% supported by an industry that they, the LGBTQIA+ community, fought so hard to be recognized and accepted by. Even beyond that, a story where all love is celebrated and where people can be proud of their beautifully inclusive love without restrictions.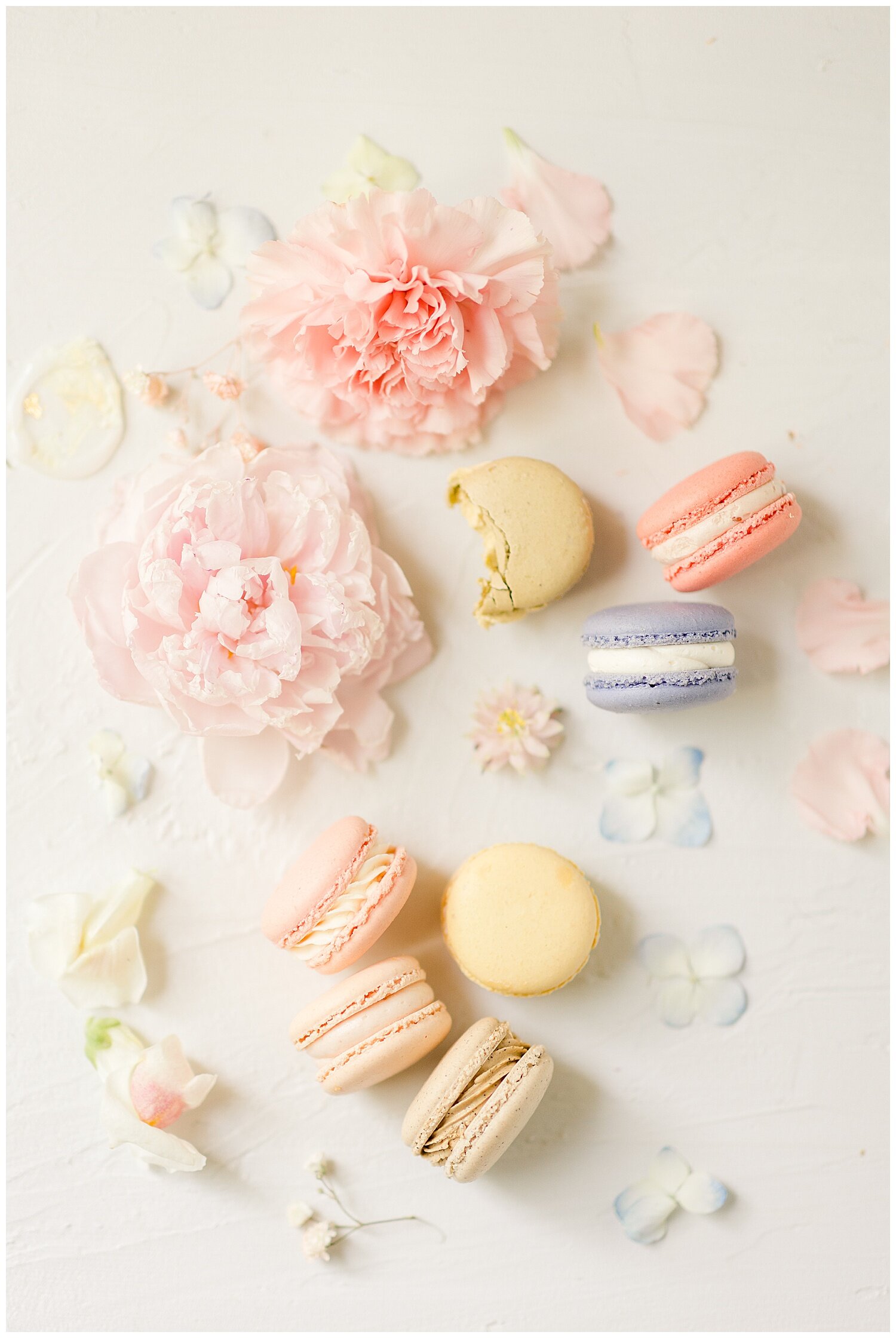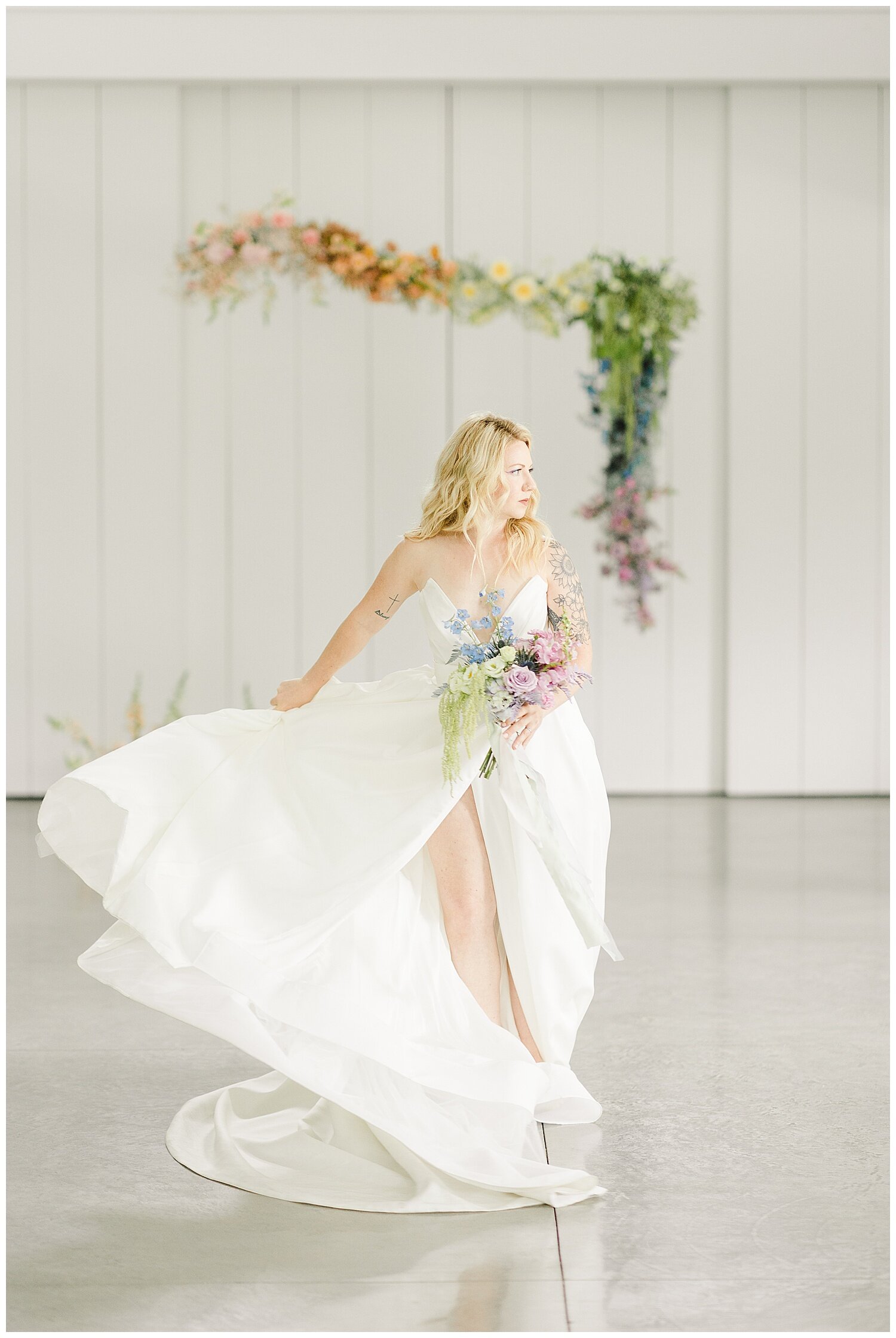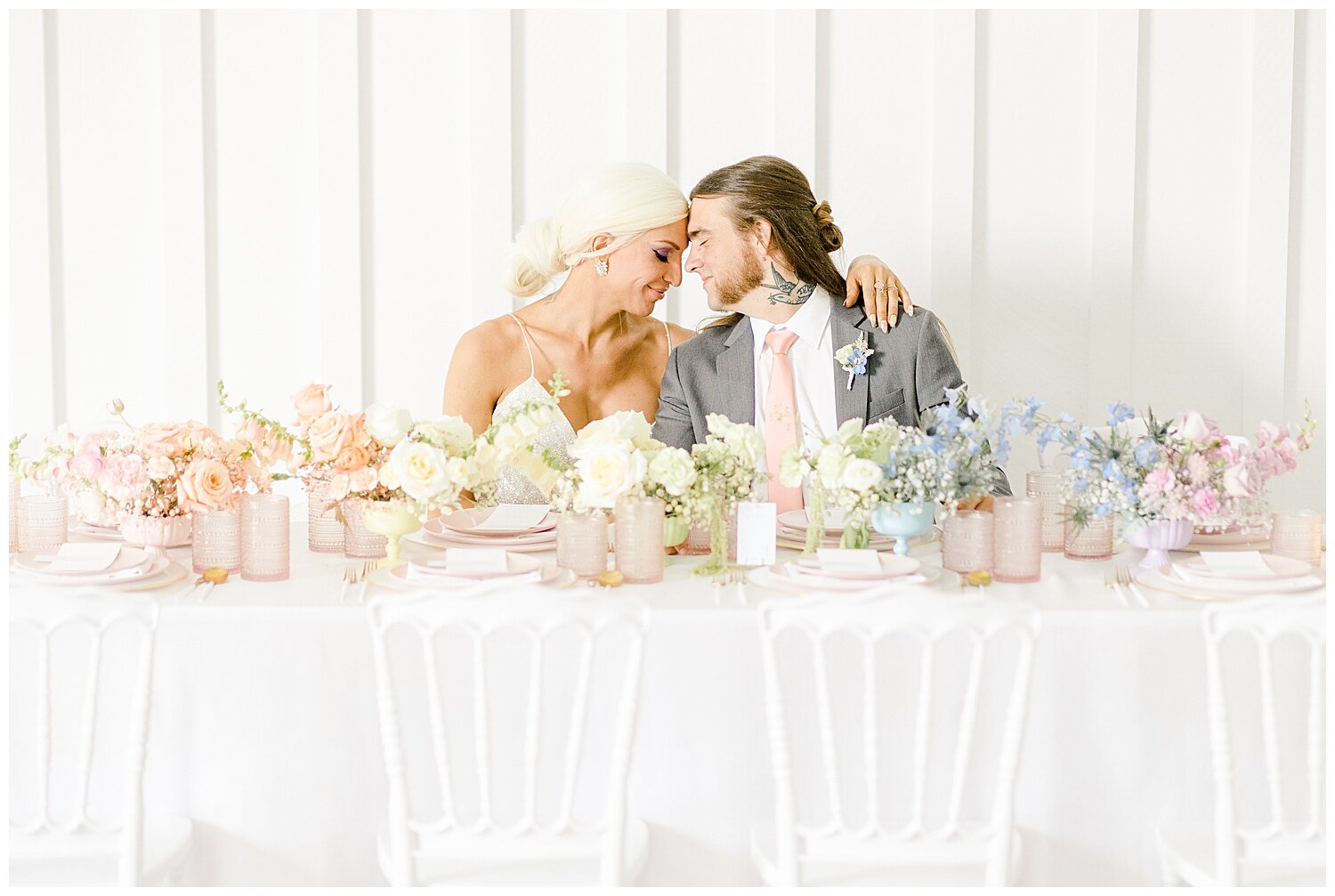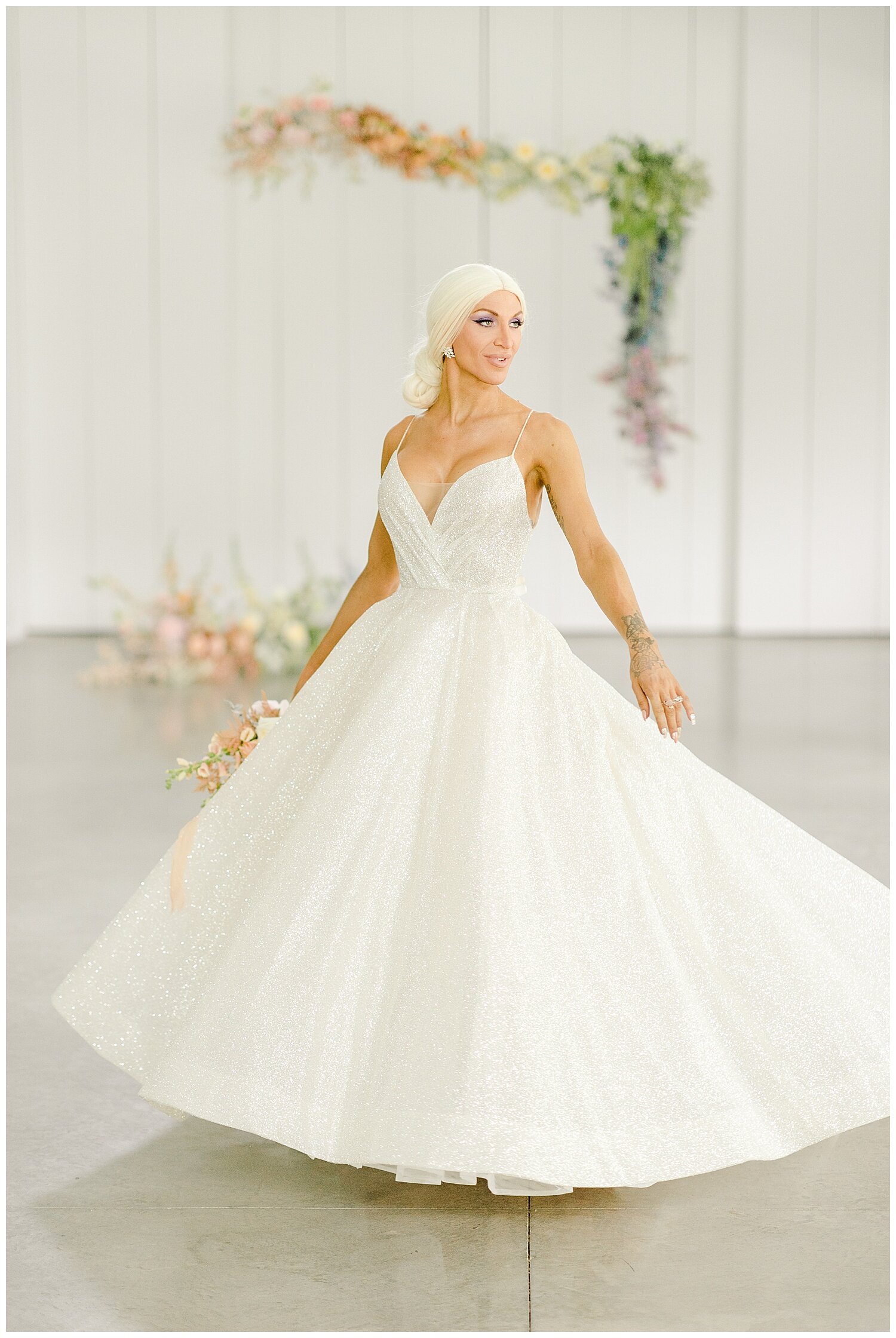 Editorial Featured on Bespoke Bride and Columbus Monthly
Vendor Team:
Planning/Design: Jeannene Lillie Events | Photography: Starling Studio | Venue: Cliffside Acres | Rentals: Aiden + Grace | Linen: Prime Time Party + Event Rental | Floral Design: Blumen | Bouquet Ribbon: The Lesser Bear | Bridal Gowns + Accessories: La Jeune Mariee Bridal Collection + Lux Redux Bridal | Groom Tux: The Black Tux | Cake Designer: Kuro Neko Cake Studio | Macarons: Mjomi | Stationery Designer: Plush Invites | Hair + Makeup Styling: Avolanza Bridal
Jeannene Lillie is a Michigan Wedding Planner and Michigan Event Planner serving clients in Michigan, Pittsburgh, Ohio, San Diego, and Worldwide Destinations. The JLE Team is committed to coordinating and designing inclusive and intentional events that celebrate the romantic and modern couple. Inquire with us today and stop by the JLE Instagram to get a peek into our beautiful events and get to know us better!
Michigan Wedding Planner | Pittsburgh Wedding Planner | Ohio Wedding Planner | San Diego Wedding Planner