When Michael and I got engaged in April 2018, we dreamed about a weekend-long celebration with our closest friends and family in my hometown of San Diego. When COVID-19 caused us to reschedule our original wedding plans, we were truly devastated. We had been planning our wedding for two years and had curated an intentional experience for us and our loved ones.
After the initial grieving period was over, we decided that we still wanted to get married on our original wedding date of May 30th, 2020. As a wedding planner based in Michigan, I knew right away that if we couldn't have their original wedding the only suitable plan b was Greencrest Manor. From the moment we contacted the Greencrest Manor team they took over curating a custom elopement experience for us coordinating our catering, decor, and florals.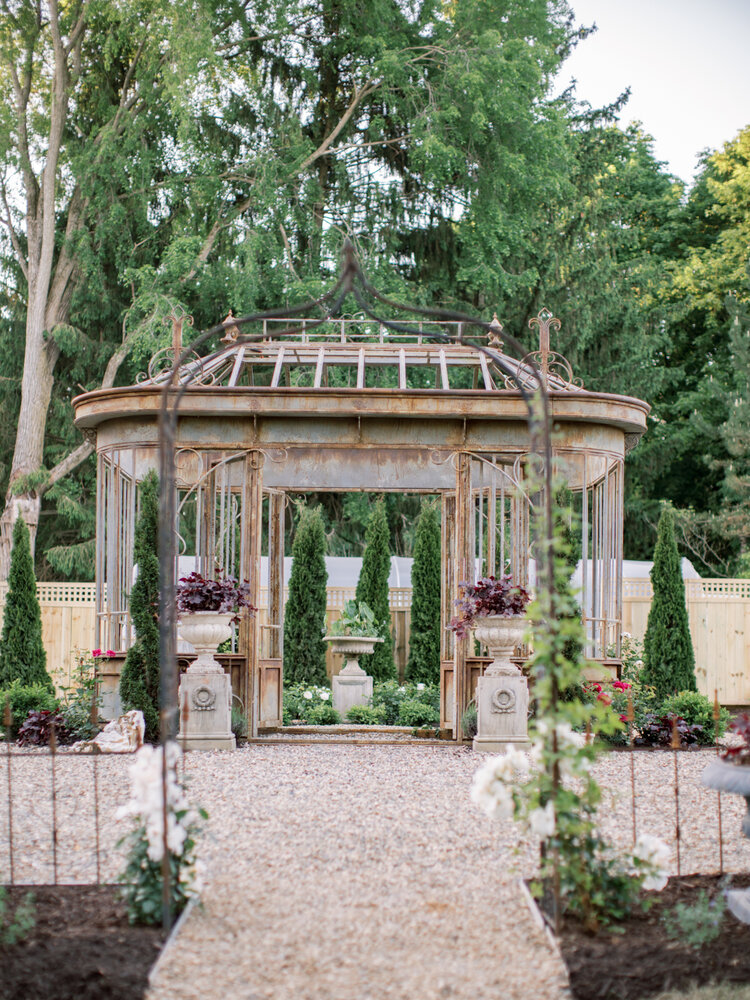 Once we finalized our elopement package with Greencrest Manor and their in-house vendor teams, we knew we wanted to be sure to invest in keepsake and sentimental elements for our new wedding celebration.
We reached out to our close friend and talented photographer Anna Laero to see if she was available to photograph our wedding. She and her husband joined us at Greencrest Manor for our elopement weekend and not only served as our photographers but also are legally signed into history as the witnesses to our marriage. She helped capture our elopement in a way that our guests could feel like they were there and that was truly our biggest hope as we had no friends or family at our elopement.
We arrived the night before our elopement and we enjoyed a wonderful dinner filled wither conversation and the great company of our vendors.
The next day (wedding day!) we spent the morning eating breakfast while going through our relationship memory box filled with over four years of memories from birthday cards and love letters to souvenirs and keepsakes from our travels. Reminiscing on our love story and all the shared experiences we've had was such an incredible and intentional way to start our wedding.
For my wedding dress, I wore a one-shoulder floral applique gown by Willow by Watters from BHLDN, and carried a garden-inspired ivory bouquet of blooms and greenery designed by the Modern Day Events Floral & Design team. Michael's bespoke wedding suit was crafted by Indochino and featured a sweet surprise message stitched inside. The Modern Day Events Floral & Design team also created for him a pocket square style boutonnière to compliment my bridal bouquet.
After breakfast, Michael and I went our separate ways to get ready so we could surpise each other later. We shared our first look on a secluded wooded area on the property which was one of the highlights of the day for us!
Another one of our favorite experiences was watching the custom video filled with toasts and well wishes that our friends and family surprised us with. Despite not being able to have any guests at our wedding, having this video helped us feel like our loved ones were surrounding us!
Our first dinner experience as a newly married is by far one of the most memorable dinners we have ever experienced. We enjoyed a relaxed, intricate chef-guided meal prepared by The Everyday Chef + Wife.
It's incredibly hard to put into words what that weekend meant to us as we celebrated our wedding in a new way, but honestly, we now couldn't have imagined it any other way. We are beyond grateful for the incredible vendors who went above in beyond to create a once in a lifetime experience for us to start our marriage on!
Featured on Carats and Cake
Vendor Team:
Venue: Greencrest Manor | Decor/Floral: Modern Day Collective  | Photography: Anna Laero | Videography: SJ Video | HMU: Wild Bees Beauty  | Catering: The Everyday Chef and Wife | Venue Portrait: Lavender & Sea Stationery | Vow Calligraphy: Victoria Fiaretti Creative Design  | Invitation Suite: Plush Invitations  | Dress Alterations: Unveiled by Brittanie | Officiant: My West Michigan Wedding  | Dress: Willowby by Watters from BHLDN | Earrings: Olive and Piper | Hair Comb: Happily Ever Borrowed  | Bridal Shoes: ASOS | Custom Suit: Indochino | Tie & Socks: The Tie Bar | Groom Shoes: DSW | Wedding Rings: Brilliant Earth | Wax Seal Wax: Artisaire  | Velvet Ring Box: Velvet Ring Box Co. 
Jeannene Lillie is a Michigan Wedding Planner and Michigan Event Planner serving clients in Michigan, Pittsburgh, Ohio, San Diego, and Worldwide Destinations. The JLE Team is committed to coordinating and designing inclusive and intentional events that celebrate the romantic and modern couple. Inquire with us today and stop by the JLE Instagram to get a peek into our beautiful events and get to know us better!
Michigan Wedding Planner | Pittsburgh Wedding Planner | Ohio Wedding Planner | San Diego Wedding Planner